FLOW CONTROL
---
STAINLESS STEEL WITH TEFLON GLASS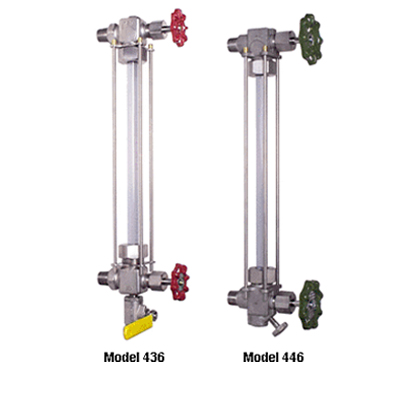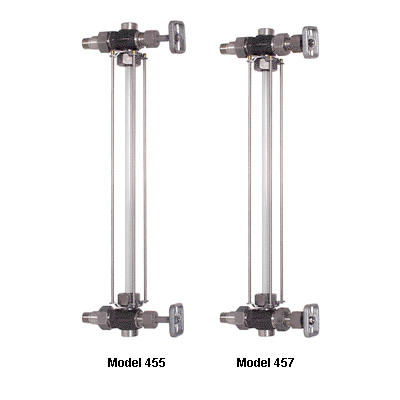 Stainless Steel with Teflon Glass
Features

Vessel Connection Sizes: 1/4" NPT up to 1" Flanged
Auto Ball Checks
For Glass Tube or Shielded Gauges
Ratings

Pressure Ratings are subject to the limitations of the gauge glass (Glass)
Temperature Ratings are subject to the limitations of the packing (Glass).
Materials

Body: 316 Stainless Steel
Glass Packing: Teflon®*
Stem Packing: Graphite Composite
Stem Packing for 436: Teflon®* /Hypolon
A Special Note About Corrosion
Excessive corrosion may result in leakage, glass breakage, and premature valve failure.
Be sure all wetted components of the gauge are constructed with materials compatible with the service medium. John C. Ernst Co. does not make chemical compatibility recommendations.
See the "Compass Corrosion Guide" or equivalent for material compatibility
Model 455 has an integral bonnet and stem seat.
Model 457 has a union bonnet for stem seat replacement.
Model 436 not all 316SS wetted parts.
| Model | Size NPT | Glass OD | Glass Length from Centers | Rod Length from Centers |
| --- | --- | --- | --- | --- |
| 436-04 | 1/2" | 5/8" | - 2" | - 1" |
| 436-05 | 3/4" | 3/4" | - 2" | - 1" |
| 446-04 | 1/2" | 5/8" | - 2" | - 1" |
| 446-05 | 3/4" | 3/4" | - 2" | - 1" |
| 455-04 | 1/2" | 5/8" | - 1-3/4" | - 2-1/4" |
| 455-05 | 3/4" | 3/4" | - 1-3/4" | - 2-1/4" |
| 455-06 | 1" | 3/4" | - 1-3/4" | - 2-1/4" |
| 457-04 | 1/2" | 5/8" | - 1-3/4" | - 2-1/4" |
| 457-05 | 3/4" | 3/4" | - 1-3/4" | - 2-1/4" |
| 457-06 | 1" | 3/4" | - 1-3/4" | - 2-1/4" |
| Model | Maximum Liquid Pressure @ Temp PSIG / °F | Steam Service PSIG | Auto Ball Checks |
| --- | --- | --- | --- |
| 436 | 500/100°F to 500/425°F | 500 | ASME |
| 446 | 500/100°F to 500/425°F | 500 | Yes |
| 455 | 600/100°F to 345/400°F | 345 | Yes |
| 457 | 600/100°F to 345/400°F | 345 | Yes |