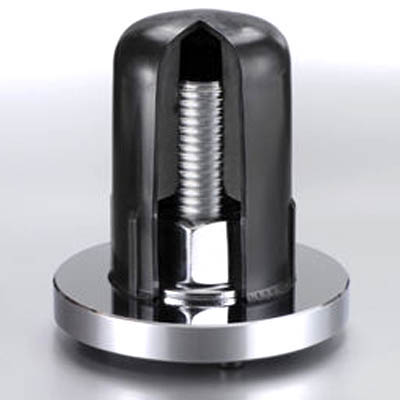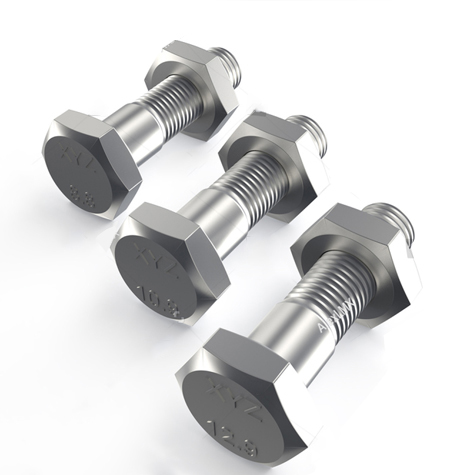 ASTM A193, Grade B7
A heat treated chromium-molybdenum steel widely used for medium high temperature service. (Liquid quench -50 to 900°F. Air quench -40 to 900°F)
ASTM A193, Grade B7M
Similar to B7 studs except that the minimum yield and tensile strength requirements are reduced and the hardness controlled to 235 Brinell maximum. Designed for use in corrosive environments. (-50 to 900°F)
ASTM A193, Grade B16
A heat treated chromium-molybdenum steel for high pressure, high temperature service. (-50 to 1100°F)
ASTM A320, Grade L7
This grade is intended for low temperature service down to minus 150°F and has a minimum Charpy impact value of 20 F. lbs. at this temperature. (-50 to 1100°F)
ASTM A320, Grade L7M
Similar to L7 studs except that the minimum yield and tensile strength requirements are reduced and the hardness controlled to 235 Brinell maximum. This stud is designed for use in low temperature corrosive environments. (-150 to 1100°F)
ASTM A320, Grade L43
This grade is intended for low temperature service down to minus 150°F and has a minimum Charpy impact value of 20 F. lbs. at this temperature. Available in sizes up to 4 in. (-150 to 1100°F)
ASTM A193, Grade B8
These Chromium-Nickel (AISI 304) austenitic steel studs are used in corrosive environments. (-325 to 1500°F)
ASTM A193, Grade B8M
These Chromium-Nickel Molybdenum (AISI 316) austenitic steel studs are used in corrosive environments. (-325 to1500°F)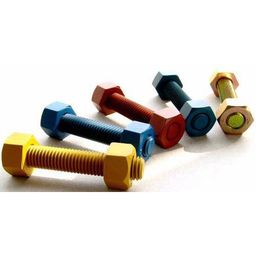 Surface preparation
Xylan coatings (or any thin-film coating) cannot by themselves provide complete corrosion protection. For maximum performance, primers or pretreatments are required.
Types of corrosion-mitigating coatings
These fall into three common categories: barrier, inhibitive and sacrificial.
A barriercoating stands between the metal fastener and the environment. This is usually an organic coating with fillers that help stop moisture or vapor from permeating the film to the metal and becoming an electrolyte.
An inhibitive coating is usually an organic coating with corrosion inhibitors, such as zinc phosphates, and chromates. In addition to acting as barriers, they help prevent corrosion by using pigments that provide an inhibitive effect, reacting with the absorbed moisture in the coating, then reacting with the steel to passivate it and decrease its corrosive characteristics.
A sacrificial coating is usually a metal or inorganic coating containing metal particles (oFen zinc). If the coating is damaged, they act as a sacrificial anode and corrode to protect the steel substrate, sacrificing themselves by galvanic action. These can also be electroplated like zinc or cadmium.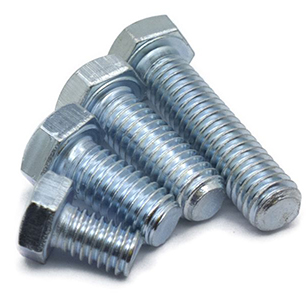 Zinc Electroplating
Zinc electroplating line provides quick turnaround and cost-effectiveness for your plated bolt requirements.
Our zinc plating process, with clear trivalent conversion, offers:
Hexavalent Chrome Free processing eliminates the toxic chemicals found in yellow chromate.
Excellent Corrosion Resistance—Exceeding that of yellow chromate, and achieving 200-400 hours to white corrosion in ASTM B-117 Salt Spray.
Increased Temperature Tolerance to 300-400°F for many hours with no effect on corrosion resistance or color.
Cost-Effective - This new clear chromate costs no more than yellow chromate.
Xylan®Overview
Xylan has long been the benchmark of our line of industrial coatings. Registered in most countries around the world, Xylan is used to identify our low-friction, wear-resistant composites of fluoropolymers and reinforcing binder resins.
They are first and foremost dry-film lubricants; however, they have many desirable secondary properties. These lubricants are combined in a matrix with the newest high-temperature organic polymers resulting in "plastic alloys" formulated to provide unique and desirable properties. They can "work" under heavy loads, at high temperatures, in chemical and corrosive environments, and combinations thereof. In the industrial world, they are known as "extreme performance coatings."
Ten reasons why you should use Xylan coatings:
Low friction: CoF as low as 0.02.
Wear resistance: even under extreme pressures.
Corrosion and chemical resistance in most environments.
Weather resistance.
Wide temperature operating range.
Xylan 1070
Xylan 1070 general purpose coatings were the first Xylan fastener coatings, introduced in the mid-1970s and still going strong. They provide outstanding lubrication for predictable makeup and break-out torque, and they have outstanding chemical resistance.
Temperature Range: -425°F (-255°C) to 550°F (290°C) continuously.
Xylan 1070 has added corrosion inhibitors.
Xylan 1424
Xylan 1424 is the environmentally friendlier version of the 1000 series coatings. Xylan 1424 series coating can be made in any color, including white. They also have better chemical resistance to bases than the 1000 series.
Xylan 1424 series reaches complete cure at 400°F (205°C), ideal for most coating operations.
Xylan 1424 series coatings work best for onetime installations, where the fastener will be coated, installed, and leF alone.
Temperature Range: -40°F (-40°C) to 350°F (175°C).
6. Flexible curing schedule: ambient to 750°F (400°C).
7. Wide color range: color-code your product.
8. Pliability.
9. Machinability.
10. Excellent adhesion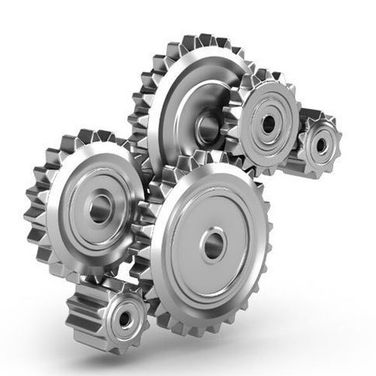 ASTM A193/A193M
ASTM A194/A194M
ASTM A320/A320M
STUDS
STUDS NOTES
To meet the tensile requirements, the Brinell hardness shall be over 200 HB (93 HRB).
Class 1 is solution treated. Class 2 is solution treated and strain hardened. Austenitic steels in the strainhardened condition may not show uniform properties throughout the section particularly in sizes over 3/4" in diameter.
For sizes 3/4" in diameter and smaller, a maximum hardness of 241 HB (100 HRB) is permitted.
To meet the tensile requirements, the Brinell hardness shall not be less than 200 HB or 93 HRB.
NUTS
NUTS — 2H, 2HM, 4, 7L, 7LM, B8, B8M
ASTM A-194 | ASME SA-194
MINIMUM AVERAGE
TEMPERING
BRINELL
HARDNESS

ROCKWELL
HARDNESS

GRADE
CLASS AND SIZE
TEMP °F (°C)
C SCALE
B SCALE
2H
Up to and including 1-1/2"
850 (455)
248 - 327
24 - 35
95 min.
Over 1-1/2"
212 - 327
35 max.
2HM
All Sizes
1150 (620)
159 - 235
84 to 99
L7M
All Sizes
1150 (620)
159 - 235
84 to 99
7L
All Sizes
1100 (595)
248 - 327
24 - 35
B8 and B8M
All Sizes
126 - 300
32 max
60 min
* In order to meet the tensile requirements, the hardness shall be no less than 200 HB or 93 HRB .
NUTS — IMPACT VALUES 4, 7L, 7LM, L43
Impact Energy Absorption Requirements
Bolting for Low-Temperature Service
ASTM A320 | A320M
MINIMUM AVERAGE
IMPACT VALUE FOR

EACH SET OF 3 SAMPLES
10 x 10 x 50mm
K. - lbs. (Joules)
GRADE
TEST
TEMP. °F (°C)
L7
-150 (-101)
20 (27)
L7M
-100 (-73)
20 (27)
L43
-150 (-101)
20 (27)