Flow-Control
Glass and Tubing for Level Gauges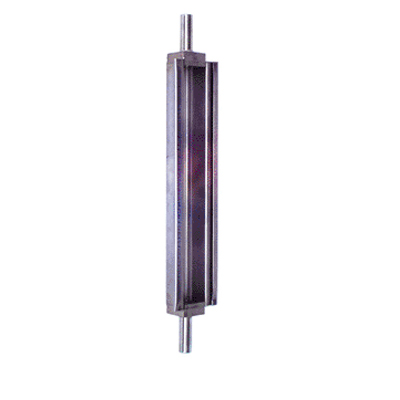 Model 833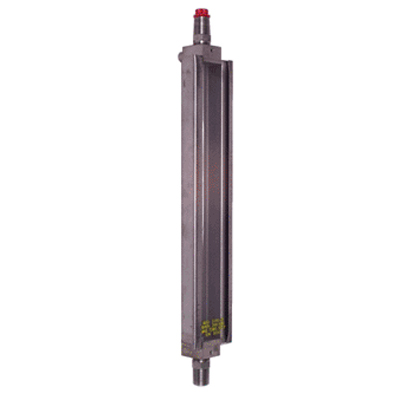 Model 834
Tubular Level Gauges - Shielded
These Shielded Gauges provide you with safe viewing of fluid levels in your tank and a wide option of scales.
This design is simple to install and provides additional gauge glass protection. Glass protection is assured by a metal housing with a Polycarbonate face which protects the glass tube.
The standard tube is Clear Glass (borosilicate) and can be furnished as Redline Glass, Polycarbonate, PVC, or Acrylic tubing.
Both gauges can be mounted with Model 324 Proximity Switches for High and Low Level Alarms. (See Gauge)
Multiple sections of gauge glass are spliced together to meet the higher-pressure ratings up to 300 PSIG. (See Gaskets) for glass pressure ratings). Some applications can be rated to 400°F with reduced pressures.
Scales Available:
· Height Scale in Inches · Rate Scale ML/M and Qts/24 Hrs. 1/4" increments. · Metric Rate Scale ML/M and Liters/24 Hrs. cm increments · Custom Scales
Model 834 is designed for use with tubular gauge valves. The valve stuffing box packing tightens around the nozzles to avoid glass breakage from over tightening. (For valve selection, See Pages 26 through 30). If this gauge is replacing a tubular glass, the gauge will be the same length as the glass being replaced. The glass diameter is 5/8"OD.
Model 833 is designed in two connection sizes. The Model with 1/2" NPT Male ends has a 5/8"OD borosilicate glass. It has a plastic vent cap on the top connection that can be removed. This Model can be made up to 25 feet. The Model with 1" NPT Male ends has a 1"OD borosilicate glass. This Model can be made up to 100".
Features

Gauge Lengths up to 25 Feet
Easy Installation of One Piece
Full Glass Protection
3-Sided Metal Frame with Clear Polycarbonate (Lexan) Shield
Made to Customer Specifications
Ratings

Pressures up to 300 PSIG
Temperatures up to 400°F
Materials

Frame: 304 Stainless Steel or Zinc Plated Carbon Steel
Wetted Metal: 316 Stainless Steel or Zinc Plated Carbon Steel PVC
Seals: Viton®* O-Rings (Std.)
For Notes about Corrosion: (See Gauges)