FLOW CONTROL
---
FLAT GLASS GAUGES - LOW PRESSURE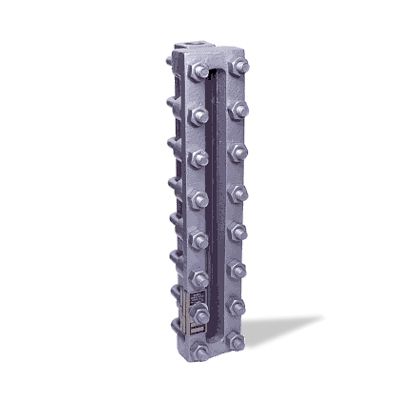 Model 479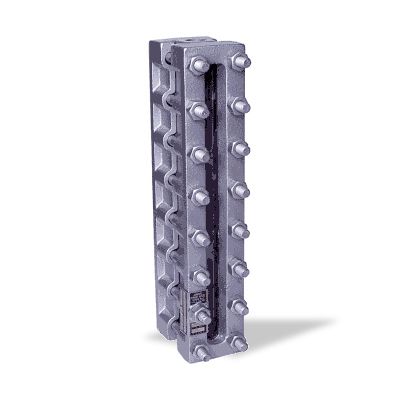 Model 489
Flat Glass Gauges - Low Pressure
These gauges are designed for less demanding process conditions that maximize the mechanical and economical advantages of ductile iron covers.
These gauges are not recommended for Steam/Water applications. (See Gauges).
Model 479 Reflex - has a single vision slot on one side of the chamber in which light can enter to determine liquid level. Above the liquid level, glass prisms reflect the surrounding light giving typically a silvery appearance. Below the level, the liquid fills the prisms causing the glass to become relatively transparent giving a typically dark appearance.
Model 489 Transparent - has a vision slot on both sides of the chamber allowing light to enter the gauge opposite the observer so that the level or the liquid and its characteristics can be seen.
Features

Armored Design
Reflex and Transparent Design
Maximum Protection
Conforms to AISI/ASTM Specs
Up to 12 Feet Long
10 Section Maximum
1/2"NPT Female Ends (std)
Ratings

Pressures up to 2400 PSIG
Temperatures up to 650°F
Materials

Chamber: Carbon Steel 316LSS(Opt.)
Covers: Ductile Iron
Glass: Tempered Borosilicate
Gaskets/Cushions: Grafoil GHP
Pressure Range for Glass Sizes in PSIG with Std. Gaskets
Model
Temp
1
2
3
4
5
6
7
8
9
479
100°F
2400
2325
2250
2175
2100
2025
1950
1875
1800
479
600°F
1780
1720
1670
1600
1550
1500
1440
1390
1340
489
100°F
2000
1815
1630
1440
1250
1065
875
690
500
489
600°F
1480
1340
1210
1060
920
790
645
510
370
Temperatures up to 650°F with Aluminosilicate Glass
Models
Glass Size
Overall Length
Length Of Visible Glass
Minimum Centers if using the following Valve
Reflex
Transparent
Rigid Gauge
Union Gauge
# of Sectns

450

460

498

450

460

498
479R11
489T11
1
5-1/4
3-3/4
8-1/8
9-7/8
11-1/8
11-7/8
479R12
489T12
2
6-1/4
4-3/4
9-1/8
10-7/8
12-1/8
12-7/8
479R13
489T13
3
7-1/4
5-3/4
10-1/8
11-7/8
13-1/8
13-7/8
479R14
489T14
4
8-1/4
6-3/4
11-1/8
12-7/8
14-1/8
14-7/8
479R15
489T15
5
9-3/8
7-7/8
12-1/4
14
15-1/4
16
1
479R16
489T16
6
10-5/8
9-1/8
13-1/2
15-1/4
16-1/2
17-1/4
479R17
489T17
7
11-3/4
10-1/4
14-5/8
16-3/8
17-5/8
18-3/8
479R18
489T18
8
13-3/8
11-7/8
16-1/4
18
19-1/4
20
479R19
489T19
9
14-1/8
12-5/8
17
18-3/4
20
20-3/4
479R24
489T24
4
16-1/2
15
19-3/8
21-1/8
22-3/8
23-1/8
479R25
489T25
6
18-3/4
17-1/4
21-5/8
23-3/8
24-5/8
25-3/8
479R26
489T26
6
21-1/4
19-3/4
24-1/8
25-7/8
27-1/8
25-7/8
2
479R27
489T27
7
23-1/2
22
26-3/8
28-1/8
29-3/8
30-1/8
479R28
489T28
8
26-3/4
25-1/4
29-5/8
31-3/8
32-5/8
33-3/8
479R29
489T29
9
28-1/4
26-3/4
31-1/8
32-7/8
34-1/8
34-7/8
479R36
489T36
6
31-7/8
30-3/8
34-3/4
36-1/2
37-3/4
38-1/2
479R37
489T37
7
35-1/4
33-3/4
38-1/8
39-7/8
41-1/8
41-7/8
3
479R38
489T38
8
40-1/8
38-5/8
42
44-3/4
46-1/8
46-3/4
479R39
489T39
9
42-3/8
40-7/8
45-1/4
47
48-1/4
49
479R47
489T47
7
47
45-1/2
49-7/8
51-5/8
52-7/8
53-5/8
479R48
489T48
8
53-1/2
52
56-3/8
58-1/8
59-3/8
60-1/8
4
479R49
489T49
9
53-1/2
55
59-3/8
61-1/8
62-3/8
63-1/8
For Gauges of 5 to 10 Sections consult Sales Office