FLOW CONTROL
---
VALVES WITH ISOLATED GAUGE CHAMBER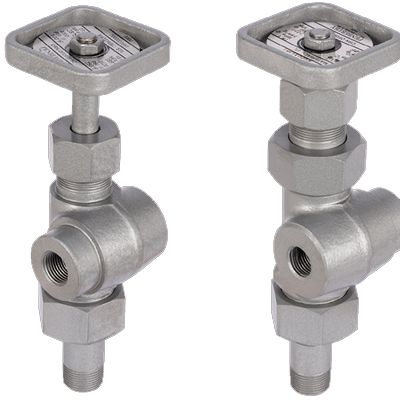 Valves with Isolated Gauge Chamber
We offer offset and straight pattern valves that isolate the gage chamber from the liquid contents of the vessel.
Offset valves have an advantage of permitting the inside of the gage glass to be cleaned easily with a minimum of disassembly. By removing the 1/2" vent and drain plug, a straight passage through the gage chamber is opened. A brush can be inserted through the valve vent and drain for glass cleaning.
The standard tube is Clear Glass (borosilicate) and can be furnished as Redline Glass, Polycarbonate, PVC, or Acrylic tubing.
Both upper and lower valves in each set are equipped with horizontal ball checks. Balls are located on the vessel side of the valve seat.
Valves with ball checks omitted meet ASME boiler requirements, the lower valve is available with an optional vertical rising ball check located in the offset portion of the valve body, and the upper valve has a leaky seat.
Valves shown are offset.
The offset distance from valve stem center to gage center is 3/4".
Model 498 which has an Outside Screw and Yoke bonnet (OS and Y) is not shown.
Features

Sizes 1/2" NPT up to 1" Flanged
Offset Pattern, Straight Avail.
Union Vessel Connections
Rigid or Union Gauge
Connections

Conforms to AISI / ASTM Specs
ASME Boiler Code Acceptable
Auto Ball Check Shutoffs
Ratings

4000 psi @ 100°F / 2620 psi @750°F
Materials

Body: Carbon Steel (316SS is Opt.)
Stem Packing: Grafoil
Trim: Stainless Steel
A Special Note About Corrosion
Excessive corrosion may result in leakage, glass breakage, and premature valve failure.
Be sure all wetted components of the gauge are constructed with materials compatible with the service medium. Quest Gasket does not make chemical compatibility recommendations.
See the "Compass Corrosion Guide" or equivalent for material compatibility
For compatible Gauges select Low or Medium Pressure Gauges .
| Model | Size NPT | Glass OD | Glass Length from Centers | Rod Length from Centers |
| --- | --- | --- | --- | --- |
| 408-04 | 1/2" | 5/8" | - 2" | - 1" |
| 408-05 | 3/4" | 3/4" | - 2" | - 1" |
| 409-04 | 1/2" | 5/8" | - 2" | - 1"" |
| 409-05 | 3/4" | 3/4" | - 2" | - 1"> |
| 414-04 | 1/2" | 5/8" | - 2" | - 1" |
| 414-05 | 3/4" | 3/4" | - 2" | - 1" |
| 415-04 | 1/2" | 5/8" | - 2" | - 1" |
| 415-05 | 3/4" | 3/4" | - 2" | - 1" |