FLOW CONTROL
---
TUBULAR GAUGE VALVES - SHIELDED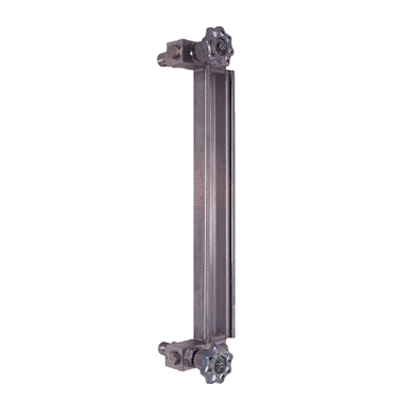 Model 819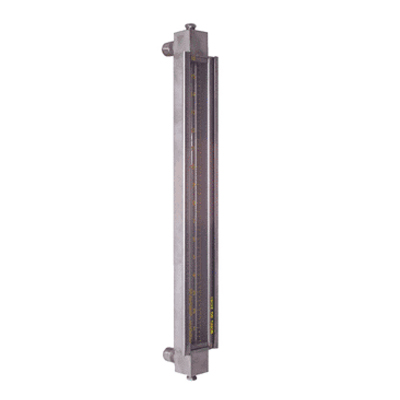 Model 849
Tubular Level Gauges - Shielded
These Shielded Gauges provide you with safe viewing of fluid levels in your tank and a wide option of scales.
This design is simple to install and provides additional gauge glass protection. Glass protection is assured by a metal housing with a Lexan face which protects the glass tube.
The standard tube is 5/8"OD Clear Glass (borosilicate) and can be furnished as Redline Glass, Lexan, PVC, or Acrylic tubing.
Both gauges can be mounted with Model 324 Proximity Switches for High and Low Level Alarms. (See Gauge)
Multiple sections of gauge glass are spliced together to meet the higher-pressure ratings up to 300 PSIG. (See Gaskets) for glass pressure ratings). Some applications can be rated to 400°F with reduced pressures.
Connection Sizes:
Threaded 1/2 - 3/4" NPT · Flanged 1/2" - 2" 150#
Scales Available:
Height Scale in Inches · Rate Scale ML/M and Qts/24 Hrs. 1/4" increment.
Metric Rate Scale ML/M and Liters/24 Hrs. cm increments Custom Scales.
Model 819 is designed with Integral Shutoff Valves with Automatic Ball Checks. The valves are offset for easy cleaning of the glass tubing through 1/4" vent or drain.
Model 849 is designed for applications where Valves are not required. This model is also available with PVC wetted Parts with either Carbon Steel or 304 Stainless Steel Frames. A 1/4" vent and drain port are provided for easy cleaning of the glass.
Features

Sizes: 1/2" NPT to 2" Flanged
Easy Installation of One Piece
Full Glass Protection
3-Sided Metal Frame with Clear Polycarbonate (Lexan) Shield
Gauge Lengths up to 15 Feet With or Without Valves
Vent and Drain for Easy Glass Cleaning
Made to Customer Specifications
Ratings

Pressures up to 300 PSIG
Temperatures up to 400°F
Materials

Frame: 304 Stainless Steel or Zinc Plated Carbon Steel
Wetted Metal: 316 Stainless Steel or Zinc Plated Carbon Steel
Seals: Viton®* O-Rings (Std.)
Tubing: 5/8"OD Borosilicate
Valve Stem Packing: Teflon®*
A Special Note About Corrosion
Excessive corrosion may result in leakage, glass breakage, and premature valve failure.
Be sure all wetted components of the gauge are constructed with materials compatible with the service medium. Quest Gasket does not make chemical compatibility recommendations.
See the "Compass Corrosion Guide" or equivalent for material compatibility
*Viton® is a registered trademark of DuPont Dow Elastomers
*Teflon® is a registered trademark of DuPont