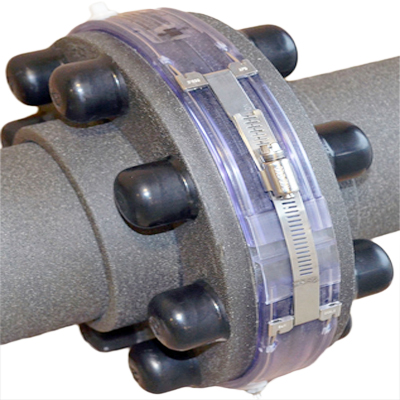 Stomaseal For Pipe, Tank And Insulation Protection
StomaSeal is a special low styrene formulation polyester which contains approximately one third of the usual two component liquid polyester resins. The nylon films which minimize emissions and facilitate handling and shaping, can be marked out when transferring templates.
In uncured state StomaSeal is extremely soft, pliable and can be cut into shape or size using craft knife or scissors. It can be molded in any shape or form, wrapped around or laid on and bonded to any clean surface.
StomaSeal is resistant to most chemical acids, to many solvents, to high and low temperature and has no known adverse reactions with any metals. StomaSeal is cured by exposure to UV light. Curing time is determined by strength of the UV source. Curing time outside depends on daylight conditions. In enclosed areas UV lamps are used (for details contact our technical department). When fully cured all styrene emissions cease, unlike conventional resins where emissions continue for a considerable time. Relatively little heat is generated by StomaSeal whereas the strong exotherm of conventional resins can create problems with shrinkage.
Because of its excellent strength, chemical protection and extremely good vapor barrier, StomaSeal is a durable protection for insulation and can be used for many other applications. Our technical department can give you full information.
Total Flexibility
StomaSeal has been extensively developed to be used across a broad range of applications typically - pipe work, vessels, tanks, valves and many other installation in land based or offshore environments. Comprehensive installation instructions can be provides.
Corrosion Prevention
StomaSeal is a seamless protection, which provides a waterproof solution for insulation. Because of its high vapor barrier, StomaSeal gives excellent corrosion protection at extremely low and high temperatures to satisfy the most demanding maintenance environment.
System Description
StomaSeal is a GRP, produced as a multi-layer system between two plastic films. The material contains polyester resins, fillers and glass. This pre-impregnated material, which is ready to use, cures by UV-light. Once cured StomaSeal will give a durable weatherproof outer cover.
Application
StomaSeal is supplied on a roll, which is 3 feet wide and 33 feet long. The material can be easily cut to any size using a knife or scissors. No pre-fabrication is needed and application can take place directly on-site. Once employees are trained, StomaSeal is easy to use and handle.
Tested to the Extreme
In order to meet the technical requirements of today's stringent operational environments, StomaSeal has undergone a rigorous program of extensive testing to provide the reassurance needed to give the user confidence in the effectiveness and protection by the product.