Maloney / Foreman Night Caps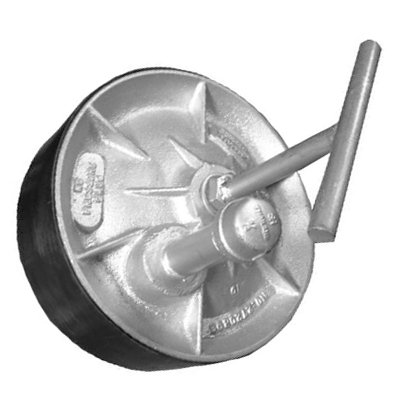 Keep Unwanted Items Out
Available in 3 to 42 inch sizes, Foreman Night Caps guard against water, mud, rocks, skids, bottles, cans, animals and other accumulation found in both new and old pipelines.
U-Bolt-Cote provides corrosion resistance and cathodic protection. All sizes available. Galvanized long tangent u-bolts ranging in sizes through 20" are stock items. Larger sizes and other types of coating such as zinc, cadmium, stainless, Xylan (Teflon) are also available. Standard APS pipe support pads are die cut out of Buna-N rubber. Pre-drilled thermoplastic rods (either round or half-round) can be provided.
Lightweight And Easy To Install
Because Foreman Night Caps are made of lightweight metal, one man can install a 30 inch model without assistance. A few turns of a single belt forces disc plates together, pressing a rubber gasket against pipe walls as a barrier to unwanted items. Night caps, however, are not pressure-holding devices.
Rugged
Field tested by major companies and practical pipeliners, Foreman Night Caps have been proven both durable and long-lasting. These night caps can also be vented when desirable.
Economical
Foreman Night Caps outperform inefficient caps, sacks, sheet iron plates and canvas covers. Replacement parts are available. Patent No. 2720893