STYLE 2024
Extruded Pure PTFE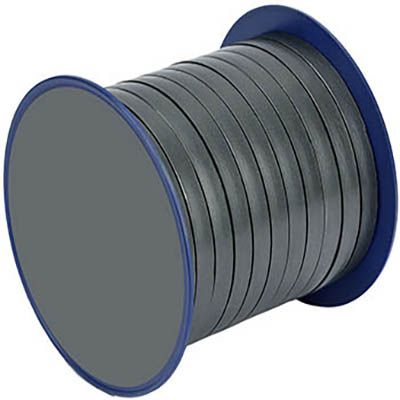 CONSTRUCTION
Style 2024 packing is a medium hard packing which is produced by extruding pure PTFE. The packing is unsintered and is treated with a break-in lubricant to reduce the coefficient of friction. Due to its softness, the packing prevents shaft wear and scoring and conforms easily to damaged shafts.
APPLICATION / SERVICE
Style 2024 packing can handle water, steam, oil, solvents, acids and alkalis and can be used with clear fluids or abrasive sludge. It is particularly suitable for use in centrifugal pumps, valves, mixers, agitators and for sealing dome lids.
Services Limits
Type
Description
Value
Temperature Limits:

Minimum

Maximum

-150°F (-100 C)

480°F (250°C)

Pressure Limits:

Rotating

Reciprocating

Static

150 psi (10 bar)

-

300 psi (20 bar)

Shaft Speed:
800 fpm (4 m/s)
pH:
0-14
APPROXIMATE YIELDS
| Size | Feet/Pound |
| --- | --- |
| 1/8" | 77 |
| 3/16" | 31 |
| 1/2" | 4.8 |
| 1/4" | 19 |
| 5/16" | 12 |
| 3/8" | 8.5 |
| 7/16" | 6.1 |
| 9/16" | 3.7 |
| 5/8" | 3 |
| 3/4" | 2.1 |
| 7/8" | 1.5 |
| 1" | 1.2 |