STYLE 2018
Braided Packing
Synthetic Yarn with PTFE, Dry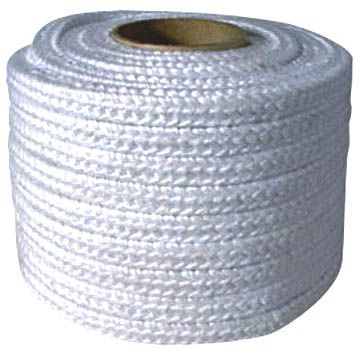 CONSTRUCTION
Style 2018 is an interlock braid using carded synthetic yarns thoroughly impregnated with PTFE suspensoid. The finished packing is again coated with PTFE dispersion.
APPLICATION / SERVICE
Style 2007 is chemically inert over the entire 0-14 pH range with these exceptions: molten alkali metals, flourides, aleum, fuming nitric acid, aqua regia, and other strong oxidizing agents
Style 2018 is a good general service packing with no lubricant. It can handle a broad range of chemicals in the 3-11 pH range, and is white in color so it will not discolor flow media. This style is typically used in valves and slow speed pumps where contamination from break-in lubricants cannot be tolerated.
Services Limits
Type
Description
Value
Temperature Limits:

Minimum

Maximum

-150°F (-100°C)

440°F (230°C)

Pressure Limits:

Rotating

Reciprocating

Static

300 psi (20 bar)

1160 psi (80 bar)

1450 psi (100 bar)

Shaft Speed:
600 fpm (3 m/s)
pH:
2-12
APPROXIMATE YIELDS
| Size | Feet/Pound |
| --- | --- |
| 1/8" | 99.2 |
| 3/16" | 55.1 |
| 1/2" | 7.5 |
| 1/4" | 31.0 |
| 5/16" | 21.9 |
| 3/8" | 13.7 |
| 7/16" | 9.7 |
| 9/16" | 5.8 |
| 5/8" | 4.8 |
| 3/4" | 3.5 |
| 7/8" | 2.1 |
| 1" | 1.9 |