STYLE 2003
Braided Packing
PTFE Yarn, Aramid Corners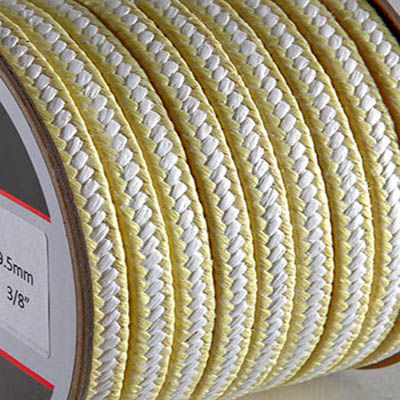 CONSTRUCTION
Style 2003 is an interlock braided packing, using pure PTFE yarn, reinforced with aramid corners. The yarns are pretreated with PTFE dispersion, plus a break-in lubricant to reduce the coefficient of friction, as well as the frictional heat created by high shaft speeds.
APPLICATION / SERVICE
Style 2003 packing, with its unique combination of PTFE and aramid fibers, is dimensionally stable, non-contaminating, has excellent lubricating and running characteristics, and because of the aramid corners, is very wear resistant. It handles acids, alkalis, and a broad range of chemicals. It is well suited for service in rotary and reciprocating pumps, mixers, agitators and reactors, especially where abrasive wear is a problem.
Services Limits
Type
Description
Value
Temperature Limits:

Minimum

Maximum

-150°F (-100 C)

540°F (280°C)

Pressure Limits:

Rotating

Reciprocating

Static

435 psi (30 bar)

1450 psi (100 bar)

2600 psi (180 bar)

Shaft Speed:
2350 fpm (12 m/s)
pH:
2-12
APPROXIMATE YIELDS
| Size | Feet/Pound |
| --- | --- |
| 1/8" | N/A |
| 3/16" | N/A |
| 1/2" | 5.6 |
| 1/4" | 21.3 |
| 5/16" | 14.3 |
| 3/8" | 10.2 |
| 7/16" | 7.5 |
| 9/16" | 4.8 |
| 5/8" | 3.9 |
| 3/4" | 2.6 |
| 7/8" | 2.0 |
| 1" | 1.6 |