STYLE 2002
Braided Packing
Carbon Yarn, Graphite Filled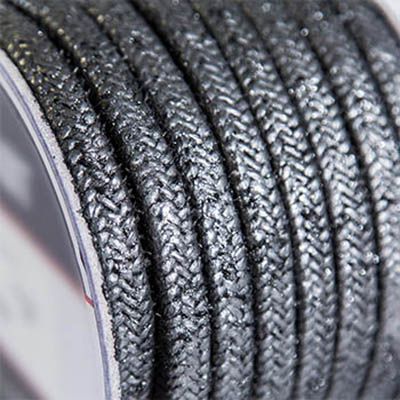 CONSTRUCTION
Style 2002 packing is manufactured from pure carbon yarn, which is interlock braided and impregnated with proprietary lubricants and graphite particles which fill voids, block leakage, and act as a break-in lubricant. The end product has a low coefficient of friction and tends to wear more evenly than most braided packings.
APPLICATION / SERVICE
Style 2002 handles water, steam, boiler feed, and aqueous solutions of acids and alkalis. In service, it seats quickly and does not require extensive break-in adjustments. This style is commonly used for high speed pumps, blowers, dryers, high temperature valves, and furnace gasketing.
Services Limits
Type
Description
Value
Temperature Limits:

Minimum

Maximum

In air

In Steam

-400°F (-240°C)

840°F (450°C)

1200°F (650°C)

Pressure Limits:

Rotating

Reciprocating

Static

365 psi (25 bar)

1450 psi (100 bar)

4350 psi (300 bar)

Shaft Speed:
4000 fpm (20 m/s)
pH:
0-14 (except strong oxidizers)
APPROXIMATE YIELDS
| Size | Feet/Pound |
| --- | --- |
| 1/8" | 135.5 |
| 3/16" | 44 |
| 1/2" | 7.3 |
| 1/4" | 28 |
| 5/16" | 19 |
| 3/8" | 14 |
| 7/16" | 7.8 |
| 9/16" | 5.7 |
| 5/8" | 4.7 |
| 3/4" | 3.2 |
| 7/8" | 2.4 |
| 1" | 1.8 |