STYLE 2001I
Braided Packing
Graphite Yarn, Graphite Filled, Wire Reinforced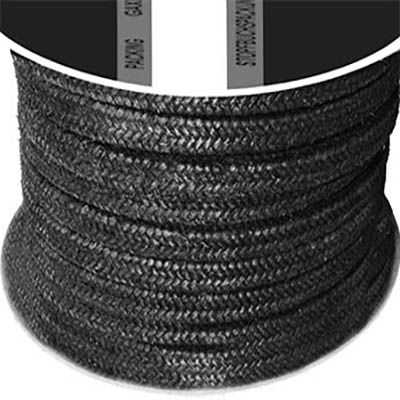 CONSTRUCTION
Style 2001I packing is a rugged premium grade, low friction, high strength, proprietary graphite fiber, twisted together and interlock braided with wire reinforcement. This style is treated with pure graphite powder to provide a bearing film, and protect shafts from scoring. It also acts as a blocking agent to prevent wicking. The wire reinforcement provides increased mechanical strength.
APPLICATION / SERVICE
Style 2001I packing is particularly suited for use in high temperature, high pressure steam service. In addition, it can handle most chemicals, acids and alkalies. This style is excellent for use in steam turbines, high temperature motor-actuated valves and for high pressure, high temperature valve applications in general.
Services Limits
Type
Description
Value
Temperature Limits:

Minimum

Maximum

Steam

-400°F (-240°C)

840°F (450°C)

1200°F (650°C)

Pressure Limits:

Static

5800 psi (400 bar)

pH:
0-14 (except strong oxidizers)
APPROXIMATE YIELDS
| Size | Feet/Pound |
| --- | --- |
| 1/8" | 136 |
| 3/16" | 58 |
| 1/2" | 8.2 |
| 1/4" | 34 |
| 5/16" | 22 |
| 3/8" | 15 |
| 7/16" | 11 |
| 9/16" | 6.9 |
| 5/8" | 5.5 |
| 3/4" | 3.8 |
| 7/8" | 2.8 |
| 1" | 2.1 |